Introduction:
Teens across the country are heading back to school, and now is the time to ensure they have the tools they need to succeed. That's why we created this blog to help with teen mental health during back to school.
On the back-to-school checklist (in addition to a new pair of shoes and a calculator) should be an assessment of their mental health.
Transitioning from summer vacation to school can be rocky for any teen. According to the National Institutes of Health, nearly 1 in 3 of all teens ages 13-18 are dealing with an anxiety disorder.
Anxiety seems to affect teens more than young children, however, they can also experience it. According to the CDC, nearly 10% of children ages 3-17 (approximately 5.8 million) were diagnosed with anxiety from 2016-2019, and that number only seems to be increasing over time.
When it comes to easing your teen's anxiety, implementing some new routines and simple changes could significantly impact their mental health.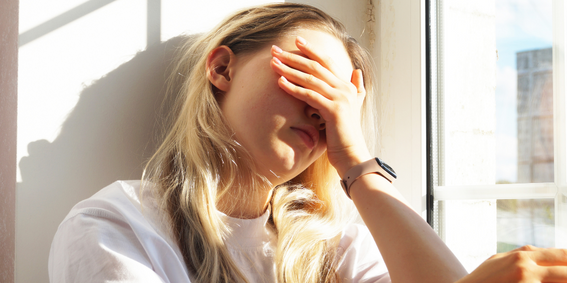 With that said, here are a few tips that could help your teen manage stress and anxiety and have a healthy, successful, and productive school year! 👊
Get Enough Sleep
A strong sleep schedule aids in your teen's emotional and mental health, and also supports brain function, improving academic performance.
According to The Sleep Foundation, teens need 8-10 hours of sleep each night. However, a study by the National Sleep Foundation found that 45% of adolescents report getting less than 8 hours of sleep per night.
A simple way to improve your teen's sleep habits is to reduce their use of electronic devices at bedtime. At least 89% of teens admit to keeping electronics in their bedroom, which can disrupt their melatonin production.
Eat Right
The teenage years are full of growth, both emotionally and physically. Your teen must be getting proper nutrition throughout the day.
According to About Kids Health, teens need extra nutrients to support bone growth, hormonal changes, and organ and tissue development.
To ensure your teen is eating right, check that they're having breakfast each morning and drinking plenty of water throughout the day. Teens should also limit processed foods, caffeine, and sugary soft drinks.

Establish a New Routine
A consistent and predictable routine can help your teen succeed as they head back to school.
Teens are prone to risky behavior; the part of their brain that drives emotion is developed before the portion that controls impulses. This is why structure is vital for your teen.
Allowing your teen to help plan their own daily routine can help them feel more independent. Having a plan in place for when your teen feels overwhelmed or stressed can help them cope with those situations.
Develop a Support System
The relationship between a parent and their child is unlike any other. According to Psychology Today, there are several reasons why you need to be involved with what is going on in your teen's life. Without this knowledge, parents may be out of touch when unhappiness occurs, harm is happening, or help is needed.
The easiest way to stay accessible to your teen is to remain a safe place for them. As a parent, you must be willing to listen when your teen wants to talk. You need to give them your undivided attention and refrain from criticism, which will often cause them to shut down.
Move
The CDC suggests that teens get 60 minutes of exercise per day, however, in 2017, only 26% of high school students met that goal.
Studies show that physically active students often have better grades, school attendance, cognitive performance, and classroom behaviors. These studies also found that the higher a student's physical activity level, the better their concentration and memory.
Your teen doesn't have to be a high school soccer or football player to get moving. They can participate in yoga, walking, or joining a gym. Exercise helps with serotonin levels in the brain, improving your teen's mental health and overall mood.
Find Your People
A sense of community is important to teens; it keeps them from feeling isolated. Your teen can feel a sense of community by getting to know their neighbors, joining a club at school, or getting involved in their church.
Community doesn't have to be based solely on geographic location. Teens can find community online with other people who share their same interests. In fact, we have our Adulting Playbook community for teens that can help them find their people and also help in their mental health this school year! Check it out by clicking here!
Limit Gaming Time
Many teens love to play video games, but it's essential to find a healthy balance between gaming and the other aspects of their lives. Nearly 9 in 10 parents surveyed by C.S. Mott Children's Hospital say teens spend too much time gaming.
According to Jenny Radesky, M.D., "Prolonged gaming has the potential to interfere with other elements of a teen's life, such as sleep, family and peer relationships, and school performance."
If your teen is online gaming with their friends, encourage them to invite their friends over and play together in person rather than online.
---
Following these tips can ensure that your teen has an easier time heading back to school. If you would like more information about the tips listed above or for resources available to you through Adulting University, check out our website or contact us at info@raisingthenextgen.com!